SS Data Limited
Company Profile
SS Data Limited (SSDATA) was established primarily with line of business providing different IT professionals as well as IT professional services to Public Sector and commercial clients. Our Director and employees have rich experience in working and dealing with and providing quality delivery to different contract services and projects of Hong Kong Government (QPS, tenders and IT contracts) as well as commercial clients during last 30 years.
SS Data Limited's philosophy of "Best Caring Employers of IT Talents" and "Always Deliver First to our Best Endeavour" has been our company direction since our establishment. This philosophy built on these two approaches form a solid commitment to our clients. Best employees provide best services for our clients.
SSDATA understands that every employee is a valuable asset and driving force of our company to assist our clients in delivery of the IT Services. As an IT services provider, we provide caring support services for all our employees. This is not only the social responsibility of our company, but also more important an initiative to improve the well behaviours of our employees, contributing to good performance and creating a pleasant and harmonious working attitude for our clients in their working environment. SSDATA.
Our vision for our employees is to retain them in jobs and to provide all individuals a career path for them to advance with an attractive working environment. Through our caring experience, SSDATA has learnt to gain valuable insights to enhance our employer branding and caring strategies, we have solid executable committed staff management plans to better attract and retain all our top talents in our company, thus ensuring a high service assurance delivery for our clients.
Our focused industries include Public Sectors and Transportation as well as Hi-Tech, Retail, Healthcare, Insurance, Banking and Financial Services. Our team is specialised in Application Development and Maintenance Services, Network and Data centre Operation Services and Big Data Analytics.
SS Data Limited's mission is to lead companies through critical digital transformations to drive higher business values by utilizing unique big data analytical skills for our customers. Powered by the mantra, 'Always Deliver First to our Best Endeavour', SS Data Limited strives for excellence in providing their clients high quality services and a commitment to long-term success.
To support client's different services and project needs of our clients, SSDATA has full and part time employees of different skillsets and calibres. Refer to IT Professional Resource boxes in the Organisation Chart below. We also act employment agency to seek right IT talents based on multiple sources including SSDATA IT Talent Database (over 1500 CVs), continuous job vacancies advertisements in Labour Department Interactive Employment Services and other job media like JobsDB, CTgoodjobs, CPjobs, 前程无忧, 51job.com etc., partnering with other local and overseas recruitment agency firms as well as our own employee referral programme.
Our employees' experience covers a wide IT spectrum of services experience including System Maintenance and Support, System Development and Enhancement, Infrastructure Design and Implementation, Security Design and Implementation, Data Centre Operation Services, DevOps implementation, Programme and Project Management, Feasibility and Technical Study, Privacy Information Assessment, and Security Assessment and Audit for government and other commercial clients.
Organisation Chart of Our Services Portfolios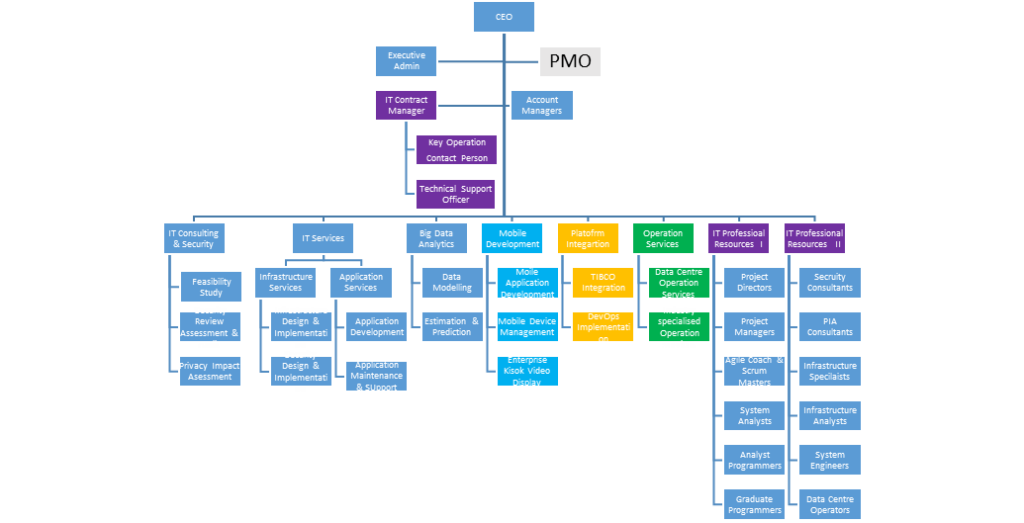 SS Data Limited has planned to embark on a new journey of Digital Transformation. SS Data Limited's view of Digital transformation is a means of improving organisation performance (growth, profit, customer loyalty) by enhancing Customer experience leveraging digital technologies. In our roadmap, we are engaging a group of IT professionals to support a full spectrum of Services portfolio with a mix of core and digital services as below:
Application Development and Maintenance Services
SS Data Limited leverages standard system lifecycle and agile methodologies for application software development and maintenance support that have been tailored to meet specific project needs and mapped to specific project execution models required by customers. SS Data Limited has successfully adapted PMP and PRINCE on project management and development engagements with customers.
Infrastructure Services
SS Data Limited offers services covering Infrastructure and Network Design and Implementation Services, Security Design and Implementation Services, Datacenter Operation services, Network Support services, End user Workplace support and Helpdesk Services.
Cyber Security
Our unique Cyber security offerings help you predict and prevent threats from external and internal sources. We have security consultants with a unique set of Security Review Assessment and Audit and Privacy Impact Assessment knowledge to assist our clients in ensuring their highest security and privacy protection for new and existing systems and applications.
Most analytics focus and deliver on the 'What' – our analytics solutions focus on the "Why", and has the ability to explain the why. We understand and explain the motivation of behaviour, not just the behaviour by utilizing robust and modernised data modelling and techniques.
Our team have rich experience in using R, Python, EViews, SQL, Power BI and Frontpage to analyse big data sets of customers, build statistical/predictive machine learning models and design and develop decision support rules and algorithms for your business in today digital world.
Tools Integration
Our team also provides consultancy and design and implementation services for DevOps integration into your computer environment.
Cloud
By using appropriate deployment tools, we assist our client in transforming their applications and system to run seamlessly in Public and Private cloud, that enable our customers to deploy scalable, on-demand, self-serve, just-in-time environments.
Mobile Application and Mobile Device Management
We cover the full lifecycle from advisory thru development to ongoing managed services for mobile applications and IOT devices. Our Mobile Device Management tool can provide a secure and spontaneous management of all mobile and IOT devices through a cloud-based MDM platform. Our MDM solutions include Mobile Device Monitoring, Enterprise Kiosk Video management, Kiosk Safe Browsing, Lockdown and Private Mobile Farm management. Better design based on "Friendly User Interface Design for Customer Experience", applications will be delivered at incredible speed using different mobile application and cloud technologies.
Quality Assurance
SS Data Limited provides end-to-end quality services across the system lifecycle. We help you manage and meet your quality goals while lowering the Cost of Quality. Our focus is on enabling you to meet every single need you have to deliver quality to your customers. We bring together multidisciplinary services to address your biggest challenges in Quality Management.
Why SSDATA?
Our Director and his teams have rich experience in providing different IT services including Feasibility Study and Application Development, Maintenance and Support services, System Integration services, Infrastructure and Network Design and Implementation Services, Security Design and Implementation Services Network Support services, Data Centre Operation Services, Security Review Assessment and Audit and Privacy Impact Assessment, Programme and Project Management Services. Particularly, our director has rich practical experience in delivering different scales of government and commercial projects.
We are a local company emphasizing in Hong Kong first and has plan to expand into Great Bay district of Mainland China to recruit IT talents and to assist our clients to deliver their IT services and projects. This vision is fully aligned with Hong Kong Government's business plan by leveraging with potential growth in Great Bay district. This will benefit Hong Kong's position as an IT innovation hub for the world.